Welcome to the Alberta Women's Institutes Archive:
Resources for Research and Teaching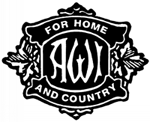 This site was developed as a collaborative effort of Athabasca University, the Provincial Archives of Alberta, and the Alberta Women's Institutes (AWI).
Its purpose is to provide for the first time, in digital format, key historical sources and secondary material for the study of the AWI, one of the oldest rural women's organizations in the province.
The site contains digitizations of organizational documents, biographies of members, organizational and rural histories, scrapbooks, interviews, maps, photographs, short essays, and lists of resources, many of which are rare or hard to find.
It is intended for the use anyone interested in women's organizational history and the history of rural Alberta.